All
Menu Packages for Banquet & Meeting Rooms
Hors d'oeuvres
Accompaniments to Packages
Child Meals
Additional Services
Bar Service
Information
Banquet & Meeting Rooms
For special events, Monument Inn offers six professionally designed banquet rooms with views of the international freighters on the busy Houston Ship Channel.
Our staff is ready to serve any function, be it a breakfast or luncheon meeting, cocktail reception, awards banquet or a complete sit-down dinner.
We offer complete banquet coordination, so just let us know what we can do to make your event special.
* We require a confirmation for the number of guests 72 hours prior to your function.
This is the number we will use for billing unless the number of people attending is greater.
---
For meeting room reservations give us a call at 281-479-1521, or fax us at 281‑479‑8102.
---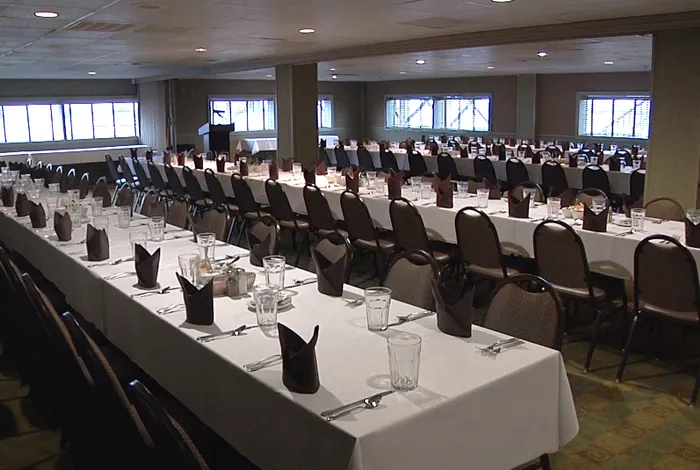 ---
Menu Packages for Banquet & Meeting Rooms
LYNCHBURG DINNER PACKAGE
$28.00
(Guests select one of the following entrees)
Fried Fisherman's Platter, Broiled Tilapia with Pontchartrain Sauce, Fried Shrimp (12), Chicken Breast with Sauteed Onions, Mushrooms and Red Wine Sauce, Grilled 10 oz. Angus Ribeye Steak
All entrees served with:
Tossed Green Salad
Baked Potato
Homemade Cinnamon and Yeast Rolls
Iced Tea and Hot Coffee


OUR FAMOUS ALL YOU CAN EAT PACKAGE
$50.00
Cold Boiled Shrimp, Fresh Shucked Oysters on the Half Shell (when available), Fried Catfish, Stuffed Crabs, Fried Shrimp, Fried Oysters
Served with:
French Fries
Homemade Cinnamon Rolls and Yeast Rolls
Iced Tea and Hot Coffee


---
Prices do not include tax or your gratuity
~
Prices subject to change without notice
~
A gratuity of 19% will be added to your function
---
Hors d'oeuvres
Hot Selections
(100 pieces each)
FRIED CATFISH PIECES
$150.00
CHICKEN TENDERS - (Fried or Buffalo)
$125.00
Cold Selections
COLD BOILED SHRIMP (5 lbs)
$150.00
ASSORTED CHEESE TRAY
$125.00
ASSORTED VEGETABLE TRAY
$75.00
* Hors d'oeuvres functions are required to spend a minimum of $28 in food and nonalcoholic beverages sales per person.
---
Accompaniments to Menu Packages
Beverages
BEVERAGE TABLE
$4.00 / person
Coffee, tea and canned sodas
---
Dessert
GUESTS SELECT THEIR CHOICE OF
$6.00 / person
Cheesecake with Cherries, Key Lime Pie, or Chocolate Mousse Cake
* If you supply your own dessert, a charge of $1.00 per person will apply.
---
Child Meals
FOR CHILDREN 10 AND UNDER
$9.00 / person
Choices are: Fried Shrimp, Chicken Tenders or Fried Catfish
---
Additional Services
Rentals
PODIUM WITH MICROPHONE
No Charge
---
Bar Selection
Cash, Ticket and Tab Bars available
Includes all necessary liquor, mixers, ice, glasses and garnishes.
PREMIUM BRANDS (1 liquor)
$5.75
SPECIALTY DRINKS (2 or more liquors)
$6.00 – $13.00
HOUSE WINE (Red, White, and Blush)
$6.00
DOMESTIC BEER (Bud Light & Miller Light)
$4.50
Prices subject to change
* Sale price of alcohol includes mixed beverages sales tax
---
Information
Thank you for considering Monument Inn Restaurant for your special event.
Please find our general booking information below.
There is no banquet room rental fee unless the number of guests is of 25 people or less, or if extra time and space is required.
Prices include tables, chairs and house linens.
The following information will assist us in arranging your banquet needs.
WE NEED:
Date and time
Number of guests
Company name, host's name
Menu package chosen
Phone number
Fax and/or email address
Specific table set-up
Non-refundable deposit and signed contract
Any specific information on additional services
A $200 non-refundable deposit is required to reserve your event
YOU WILL NEED:
Your guests
Final confirmation for the number of guests 72 hours in advance, this is the number we will use for billing unless the number of guests is greater
If no final confirmation is given, the restaurant will consider the last estimated number as said guarantee
No confetti or candles for decorating please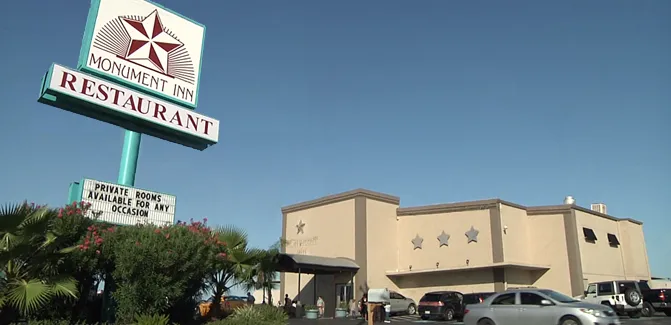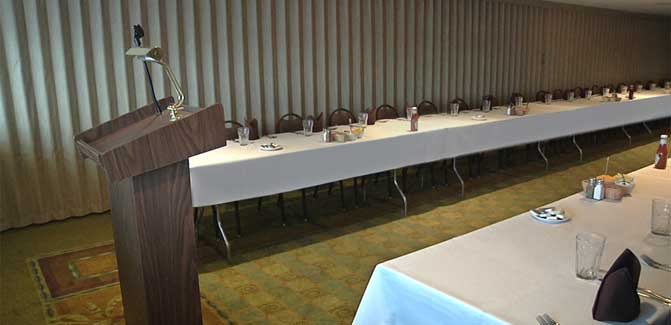 We are glad to assist you with all your banquet needs. Call for more information or to book your event: 281-479-1521.
---