Houston Seafood Restaurant: An Historic Dining Experience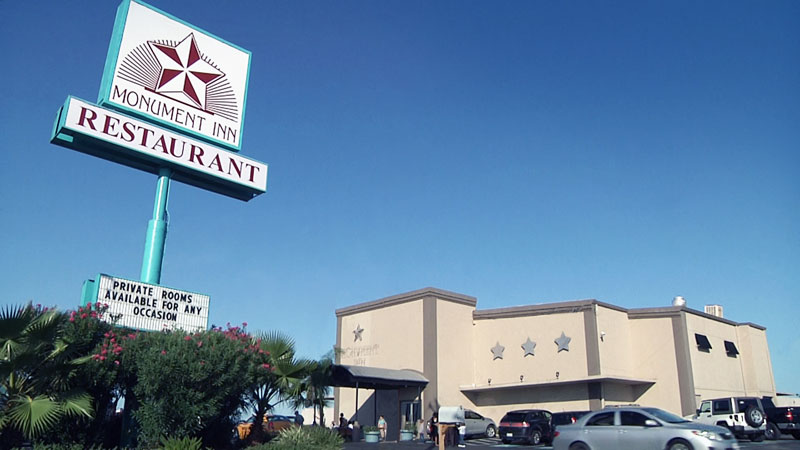 May 24, 2018
Houston seafood restaurants are plentiful in the land of gulf coast dining. But if you are searching for an undeniably unique and historically rich culinary experience, look no further than Monument Inn Restaurant located next to the San Jacinto Battleground State Historic Site.
The San Jacinto Monument which commemorates the Battle of San Jacinto is the world's tallest monumental column. Monument Inn Seafood Restaurant is also next door to the Battleship Texas, one of only six remaining ships to have served in both World Wars.
Monument Inn is truly a one-of-a-kind waterfront seafood restaurant. While feasting on savory dishes, diners are treated with a view of international boats floating down the bustling Houston Ship Channel – a magically nautical atmosphere.
Monument Inn's Famous Seafood Dishes:
Fried Shrimp
Blackened Red Fish
Stuffed Jalapeños (with crabmeat stuffing, lightly fried)
Cinnamon Rolls
Pontchartrain Sauce (shrimp and crabmeat in a creamy white wine sauce)
In addition to Monument Inn's delectable menu, the restaurant also offers their famous All-U-Can-Eat: Cold boiled shrimp and oysters on the half shell, fried catfish, shrimp, oysters, stuffed crab, french fries, cinnamon rolls, and dinner rolls. You can also add Rib eye Steak for $3.00 per person.
Texas is rich in history, and San Jacinto State Park is a moving tribute to the state's fight for independence and its colorful past. Following the Battle of San Jacinto, Mexican President Antonio Lopez de Santa Anna was captured, and Texas was annexed by The United States in 1845.
Monument Inn Seafood Restaurant is nestled right in the thick of Texas' historic showdown. The restaurant dinning room features large windows, ideal for viewing the parade of boats and ships that travel the Houston Ship Channel.
For special events, the seafood restaurant is also equipped with six professionally designed banquet rooms, each with stunning views. Monument Inn can accommodate any function, be it a breakfast or luncheon meeting, cocktail reception, awards banquet, or complete sit-down dinner.
Monument Inn Additional Treats:
Peel & Eat Shrimp (1/2 lb)
Fried Calamari
En Brochette (shrimp and oyster wrapped in bacon and deep fried)
Soups & Salads (including monumental chicken salad and crawfish bisque)
Cajun Popcorn and Crawfish Étouffée
Filet Mignon
Irresistible Pastas
So, if you're craving delicious fresh seafood in an historic Texas setting, Monument Inn Seafood Restaurant is the place for you. If you have any additional questions (including store hours and to book your party), please contact Monument Inn Seafood Restaurant at 281-479-1521.
Monument Inn News
---
Monument Inn Restaurant on Facebook
See our current photos and videos on Facebook.
---
Seafood is the perfect diet food that is full of protein and contains Omega 3, a fatty acid that is essential to...
---
Dining out is a wonderful way to wind down and reconnect with family and friends over the holiday season. For special occasions, we offer...
---
Valentine's Day plans? Choose Monument Inn for Valentine's Day lunch or dinner. Located on the Houston Ship Channel relax and...